After another challenging year for midwives and student midwives in the UK, the Iolanthe Midwifery Trustee are pleased to announce the Iolanthe Award Winners for 2021. 
Chair of Trustees, Jacque Gerrard MBE said, "We were absolutely delighted that we had so many inspirational applications as we know that projects have been more limited this year due to lockdowns and travel bans. It's a pleasure to be able to announce our winners on the International Day of the Midwife".
Our Patron, Baroness Cumberlege, recently summed up our feelings on the Iolanthe midwife and student award applicants, who have been working in the NHS during the pandemic. She said:
Despite the pressures, you have gone that extra mile to be creative and innovative and improve care for women and their families. This extra mile you have gone is so heart-warming as we all know what you have been up against caring for women during a global pandemic and continuing to provide high-quality care in the NHS.
The Trustees echo these words, and we wish to congratulate and thank every single applicant for their efforts and for the wonderful initiatives that midwives and future midwives are doing to improve maternity care. This is particularly pleasing as we are aware of the increasing demands made on midwives during the pandemic. We also know of the challenges that student midwives have faced studying their academic work remotely whilst also providing hands-on clinical care under current Covid rules.
The Iolanthe/RCM Jean Davies Award for addressing health inequalities goes to:
Kyia Omoshebi (with co-applicant Tamsin Bicknell) for improving the quality of maternity care for Black and Black-Mixed Womxn at Homerton University Hospital NHS Foundation Trust.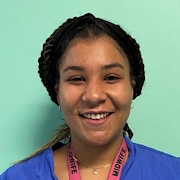 The winner of the 2021 Dora Opoku Award for Black and Brown student midwives is:
Rio Cole to attend a Breastfeeding London course. Rio is a student at the University of Hertfordshire.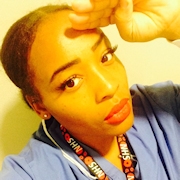 The winner of the Dora Opoku Award for Black and Brown midwives is:
Kulwant Kaur (Kelly) Shari, a midwife at University Hospital Southampton NHS Foundation Trust, who will use her award to study for a Diagnostic Assessment and Decision Making (DADM) CPD qualification at the University of Southampton, working towards a Post Graduate Certificate in Advanced Health Assessment and Prescribing.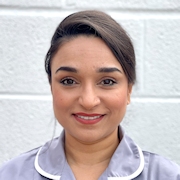 The seven Student Award Winners are: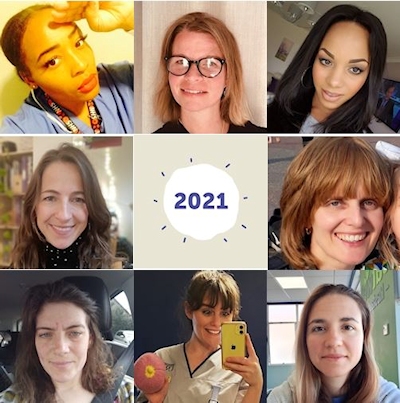 L to R; tOP - rio (dora opoku award) Rhian (mary Cronk Award), Joyce
middle - Naomi, , Elisabeth
bottom - Rebecca, Megan, Mireia
Rhian Ward, to host a 'Biomechanics for Birth' course for student midwives at the University of Plymouth. She also won the Mary Cronk Award (see below)
Joyce Fogg and Naomi Thistlethwaite, both students at the University of West Scotland, who won awards to attend Hypnobirthing Teacher Training Courses.
Elisabeth Schwalbe for her Return to Midwifery Practice course at the University of Central Lancashire
Rebecca Murdoch for her phenomenological study into the psychological impact of ankyloglossia on the breastfeeding journey. (University of the West of Scotland)
Megan Smith to attend a Yoga for Pregnancy teacher training course. (University of the West of Scotland)
Mireia Manzano, a student at London South Bank University, will attend a Perineal Suturing and Perineal Care Workshop.
The ten Midwife Award Winners are: 
L to R: Top - 'Kyia (Jean Davies Award), Kelly (Dora Opoku Award), Ellie, Marley
Middle - Katie, Mhairi; Lauren
Bottom - Sally, Tamsyn, Tracy, Verónica
Ellie Ruding, a midwife at Tameside and Glossop Integrated Care NHS Foundation Trust, studying for an MSc Midwifery Critical Care (Level 7) module at the University of Central Lancashire.
Ella Radford, a bank midwife at St Thomas' Hospital,London, for an MSc project on how transgender men and non binary people experience maternity services
Marley Hall, a midwife in independent practice, to record 'Better Birth' podcasts with experts from minority groups and creating a training manual.
Katie Poljakovic to host a Biomechanics for Birth course for midwives at Betsi Cadwaladr University Health Board.
Mhairi McLellan to undertake a Masters Degree in Health Research at the University of Stirling.
Lauren Alexis, a midwife at Frimley Park Hospital, to address ethnic disparities in maternity care, through staff training and individualised support for families from marginalised communities .
Sally Pezaro, using her award to conduct a research study exploring UK midwives' problematic substance use, health outcomes, work engagement, and leaving intentions one year into the COVID-19 lockdown, at Coventry University.
Tamsyn Green, to help fund her online Masters study of Primary Maternity Care taught from Griffith University, Australia.
Tracy Beason, a midwife at Barking, Havering and Redbridge University Hospitals NHS Trust, who will be taking a Healthcare Incident Investigation training course.
Verónica Blanco Gutiérrez for her study into the impact of ethnicity on perinatal uirinary incontinence at the University of Bournemouth
The Mary Cronk Award (to an applicant for another award whose project aligns with Mary's passions and values) goes to: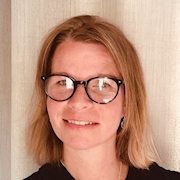 Rhian Ward to host a 'Biomechanics for Birth' course for student midwives. (University of Plymouth)
All the trustees at Iolanthe Midwifery Trust warmly congratulate all our award winners. You have worked remarkably hard and deserve these awards. We applaud you and we look forward to seeing the outcomes of your exciting projects soon.
**Don't forget to read the rest of our May Newsletter - you can find it here... May 2021 Newsletter **