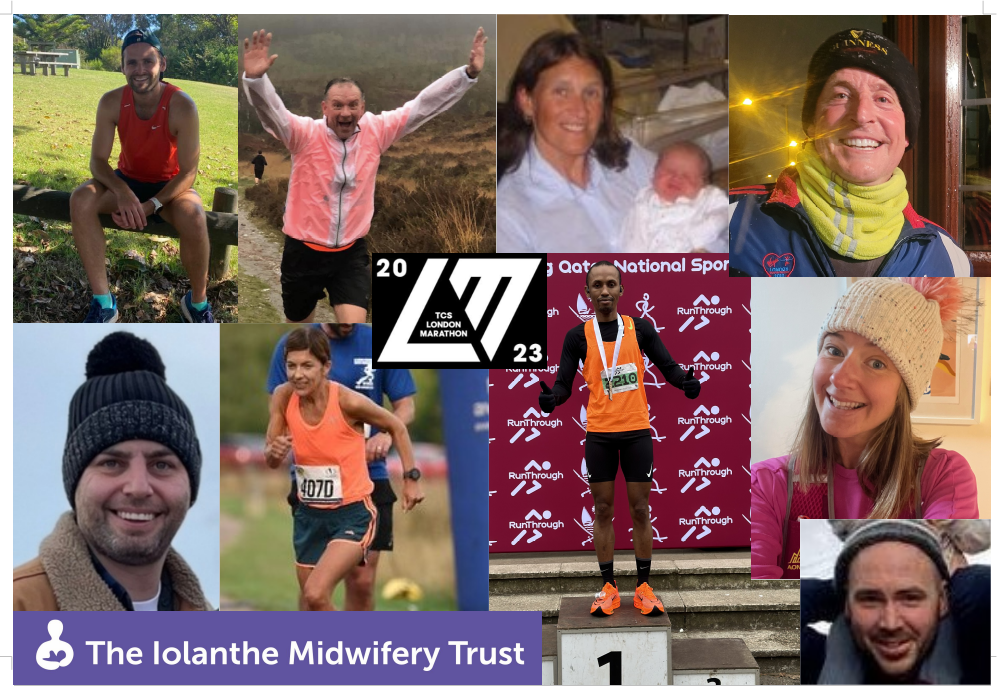 Above left to right, we are delighted to introduce (clockwise from top left): Daniel Rawlings, Paul Tully, Rosina Attwood, Kevin Burns, Sarah Fynn, Sam Ford, Haroun Sesay, Rebecca Barden, and Ryan O'Connell. 
These are the dedicated people who will be representing Iolanthe in the 2023 London Marathon, on April 23rd. We spoke to runner Sarah Flynn to hear just how such a committment comes about. 
HR professional Sarah has always wanted to run a marathon, and she always wanted it to be the London Marathon. And this year, to support Iolanthe, she'll achieve her dream.
She's not new to running though. Like many of us, she hated school cross country. But about 20 years ago she reclaimed running for herself, and in the last few years, she's stepped it up, successfully completing 4 half marathons.
"I've learnt that much of your running should be slow," Sarah explains, "which means you can actually enjoy it. When you're a mum you don't have time to go to the gym, but you can grab the odd half hour – I love the space, the time, being in the fresh air, listening to my tunes – switching off from everything else – the freedom! It's great for my mental health."
"Getting in the training is a challenge, since as well as parenting, I work full time. I do four runs a week, two before or after work, and two on the weekend. My husband is a runner as well, so we take turns getting out for a run. He ran the London Marathon last year, so he's very supportive of me this year. I never thought I could do even a half marathon, and now I'm aiming for a whole one!"
How did Sarah choose Iolanthe to support? "I was looking at the charities I could run for," she explains, "and the Iolanthe Midwifery Trust really connected for me.
I wanted to run for an organisation I really believed in. I've had two babies, and I could only describe the midwives who cared for me as angels.
Also at the University of Southampton where I work, we have a big nursing and midwifery department, where there is lots of research in that field going on, which I find very interesting."
During her births, Sarah benefited from accidentally experiencing continuity of carer, which the NHS is now working towards structuring into maternity care. "The midwife who turned up to look after me in my second labour, was the same midwife who had looked after me at my first. She actually stayed beyond her shift that first time to get me through. When she appeared the second time, and I recognised her, I felt so calm and confident."
Sarah says the biggest challenge for her in running the London Marathon will be simply how long she is on her feet for. "It may take me five, maybe five and a half hours. This Sunday I'll run a half marathon length again in preparation, but after that – I'll be beyond what I know in terms of distance and time. Though, I think really the training is the hardest bit – I'm determined to enjoy the marathon itself. I'll have lots of support on the ground – my husband and my boys, my parents, my in-laws, friends – I'll look for those faces to keep me going."
And what will she do in celebration afterwards?
"We'll all go for a drink – and I'll get to sit down!"