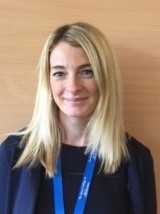 I was awarded The Jean Davies Award for challenging inequalities in maternal health in the UK to support the practical costs of my research project – a qualitative research study exploring the experiences of pregnancy and maternity care for women who have been trafficked in the UK.  
Human trafficking is an international crime and violation of human rights defined as the recruitment and movement of people for the purposes of exploitation – using coercion, deception, and abuse of vulnerability.In 2013, there were an estimated 10-13,000 victims of trafficking in the UK and its scale is gradually increasing. We know that around half the people trafficked in the UK are women, most of those for the purposes of sexual exploitation.
Research suggests that at least 25% of these trafficked women in the UK are pregnant, many as a direct result of rape whilst in the trafficking situation, and yet there is no specific training or guidance available for maternity professionals.  
Indeed, there is a dearth of research exploring trafficking and pregnancy and very little available information to guide midwives. The aim of my research was to explore the experiences of pregnancy and NHS maternity care for women who have been trafficked, as well as increasing understanding of social and health factors that may impact on pregnancy outcomes. 
In summary, I interviewed 17 participants for my research, five women with lived experience of trafficking, pregnancy and maternity care; and twelve professionals including midwives, support workers and doulas, who all had experience of supporting women who had been trafficked through pregnancy and the postnatal period. Each interview lasted between 60 and 90 minutes. 
Data analysis identified seven themes. These were 'Distress', 'Health', 'Social Context', 'Negative Experiences', 'Positive Experiences' and 'The Role of Support Workers'. The findings of the research identify that women who have been trafficked experience a range of physical, mental, emotional and social concerns in the perinatal period that may impact on their pregnancy.
Unfortunately, women do not always experience the compassionate, women-centred care that is recommended. Poor communication and a lack of trauma-informed care are key issues.
Despite the issues identified, the research highlighted the positive impact of kindness and individualised care, particularly when women received continuity of care.
The vital role played by support agencies was identified as support workers and doulas helped to bridge a gap between women and their NHS maternity care.  A joined-up, trauma-informed approach between midwives and support workers could help improve care for women who have been trafficked. 
The funding from the Jean Davies award covered the costs of interpretation services where they were required. This allowed me to interview all women who wanted to take part, regardless of background and ensured that I was able to hear a wider range of voices from women.
The funding also allowed me to pay for transcription of the interviews. This was crucial in ensuring timely completion of the research as it would have been a very time-consuming job to complete this myself alongside my day job!
I am grateful to the Iolanthe Trust for supporting this research – it has helped me to develop as an independent researcher and importantly, upon publication, will increase the knowledge base for midwives and other maternity professionals who are providing care to women who have been trafficked.
Ultimately, I hope this will lead to more understanding of women's health and social circumstances as well as the individualised care that can help to give women a positive and safe experience during pregnancy and birth.