Sophie's Iolanthe award took her to Mexico to work alongside Angelina, a local community midwife.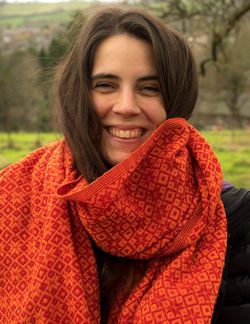 The Iolanthe award gave me the opportunity to work alongside and learn from Angelina Martinez, a wonderful Mexican midwife who inspired me to follow the path of midwifery. From her community based practice based in the market town of Tepoztlan, around an hour from Mexico City, I was able to observe a blend of traditional and modern practices, combining multiple ways of knowing to the benefit of women's health and well being. This has informed my own emerging skills and knowledge as I continue learning here in the UK, as well as helped to form my plans for the future.
During the two weeks I was able to further my skills in attending physiological birth as well as learning more about the use of traditional practices such as using the rebozo (a handwoven cotton shawl or cloth) in pregnancy and birth and the use of herbal preparations to support women's wellbeing throughout the childbearing period.
The traditional postnatal care includes ritual bathing, massage and ceremonial wrapping of women using the rebozo; symbolically and physically recognising and honouring the hard work done by women in childbirth as well as the emotional significance of the transition to motherhood. This prompted me to reflect on the postnatal service in the UK, as well as the challenges faced by women when mothering without a close and caring community structure around them.
The experience has given me insight into ways we can strive to achieve optimal care for women and their families, and that by blending empirical, evidence based knowledge with more intuitive and subtle ways of knowing, we might forge a more holistic model of care to the benefit of both women and ourselves as practitioners.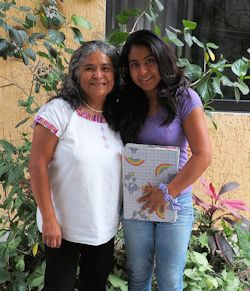 Since undertaking the placement I have attended a 3 day rebozo workshop with Angelina in London and I will continue my friendship and learning with her, seeking ways to promote her philosophy of care through my own actions. My educational background is in social anthropology and I intend to continue to research and write about ways of knowing in midwifery with a particular focus on the skill of the midwife and our sensory relationship to the environments we come to practice in. I am passionate about international connections in midwifery and the ways we can enrich our learning from cross-cultural perspectives, the Iolanthe award gave me the chance to see how some of these benefits might work in practice.
After attending the fantastic awards ceremony in London I have since presented to all midwifery cohorts here at York University and am currently writing further reflections on the experience to extend and share my learning. This opportunity has shaped my educational experience and it would not have been possible without the Iolanthe award; I am deeply grateful for how the trust has enabled me to bring together the many different threads of my learning as I move through my midwifery education and develop my professional skills and self, excited for the future.