This award, jointly funded by the Royal College of Midwives (RCM), is for individuals or teams working to address inequalities in maternal health in the UK.
2023 Award applications are now closed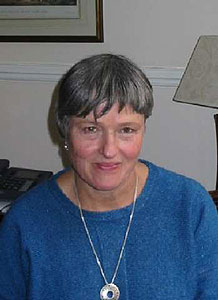 The Jean Davies award is intended to fund individuals or teams working specifically with women or families who may be in circumstances such as (but not only): single mothers, young mothers, families of low socio-economic position, families in geographical areas of high deprivation, asylum seekers and refugees, mothers who experience difficulty in accessing care, homeless families and women suffering abuse. There must be a stated aim to reduce or to investigate inequalities.
The award is made in honour of Jean Davies who served for many years as a Trustee of the Iolanthe Midwifery Trust, stepping down in 2012, and in various roles for the RCM during her career. Jean's focus in her work as a practising midwife and researcher was to help those families experiencing social and economic disadvantage, mainly in her home region, the north-east of England.
Is your project eligible for an Iolanthe/RCM Jean Davies Award?
Awarded annually to one applicant or team
Worth up to £5,000
Projects can be research, care and service improvement work, or a mixture of both
For midwives and student midwives or teams led by a midwife. The lead midwife/student midwife must be an RCM member
Inter-professional teams are encouraged to apply
Applications are made online. Please read the Application Guidance (link above) and our Privacy Policy carefully before applying.
See What do we fund for more information
Watch Catherine Collins, one of our 2019 Jean Davies Award winners talk about why she applied for an award:
Elsie Gayle, who used her Jean Davies funding to put on a conference addressing health inequalities for Black mothers and babies speaks about her award:
Previous Jean Davies Award Winners
2023
Sarah Esegbona-Adeigbe, a midwifery lecturer at London Southbank University, who will use her award to support a qualitative study of migrant Nigerian mothers' and midwives' perceptions of cultural competency in antenatal care, as part of her PhD studies. 
2022
Meghan Luton,  a midwifery lecturer at Middlesex University, who has a special interest in supporting deaf people. She will be using her Award to research the experiences of deaf BSL-using women in maternity.
2021
Kyia Omoshebi (with co-applicant Tamsin Bicknell) for improving the quality of maternity care for Black and Black-Mixed Womxn at Homerton University Hospital NHS Foundation Trust.
2020
Tomasina Stacey, from Calderdale and Huddersfield Foundation Trust, who is using her funding to improve the communication of key health messages about diabetes in pregnancy to culturally and linguistically diverse communities with the use of co-designed digital animation..
2019
Catherine Collins, from Northumbria University, who will be using her funding to undertake a PhD exploring the maternity experiences of women who have been trafficked into the UK,
and
Elsie Gayle, based at the University of Wolverhampton/Mimosa Midwives Practice, will put on a conference aimed at ameliorating the root causes of black maternal and perinatal mortality, learning from international expertise in reproductive justice
2018
Emily Brace, based at Cardiff & Vale University Health Board, used her funds to launch Wales's First Specialist Midwifery Led FGM Pilot Clinic.
2017
Susan Crowther and Annie Lau from the Robert Gordon University in Aberdeen. They are carrying out research to identify the needs of Polish migrant women accessing maternity services in Aberdeen and Aberdeenshire.
2016
Elizabeth Bailey, Midwife Research Fellow at Coventry University and University Hospitals Coventry and Warwickshire NHS Trust, who is carrying out a listening exercise around women's needs for nutritional guidance in pregnancy.
2015
Annie Lester, Integrated Midwife at Stroud Maternity unit, who is running an early years integrated targeted support pilot called Empowering Women through Group Antenatal Care; this is being carried out in areas of multiple deprivation in Gloucestershire.
2014
The first joint Iolanthe/RCM Jean Davies award for addressing health inequalities was awarded to Laura Abbott, lecturer at the University of Hertfordshire in 2014. Laura is pursuing a Doctorate in Health Research on the experiences of pregnant women in prison. Laura's funding helped not only her studies but her voluntary work in prisons and her awareness-raising activities about the issues for these families. Laura was also granted a Midwives Award in 2017 to continue her studies.