From research into communication between fathers and midwives, to genetic markers predisposing women to post-natal depression; from challenges facing pregnant women in prison to the use of British Sign Language by midwives: just a few of the inspiring projects undertaken by Iolanthe Midwifery Trust Award Winners 2017.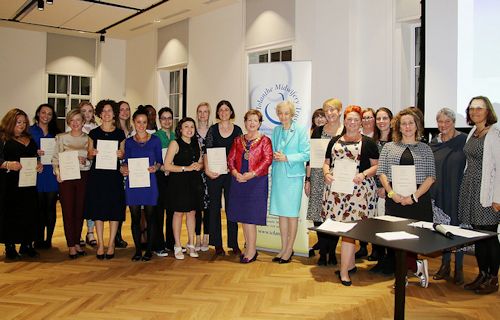 On 28th September 2017, the Award Celebration was hosted by the King's College London Department of Midwifery at the spectacular Bush House. Baroness Cumberlege, patron of the Iolanthe Midwifery Trust and chair of the National Maternity Review presented certificates to midwives and student midwives who had received financial awards to support their professional development with the aim of improving maternity care for the benefit of women, babies and families.
We are delighted to announce 22 worthy award winners this year - almost double the 12 winners we had last year. The quality of the projects was extremely high and it is always difficult to choose which ones will be funded. Topics funded this year included providing support to vulnerable women such as pregnant refugees and those with mental health problems. We congratulate the hugely impressive work of the award winners. It is a privilege to be able to support such dedicated midwives.
Sheena Byrom OBE, Chair of Trustees
The newly elected President of the Royal College of Midwives, Kathryn Gutteridge, gave an inspirational talk on the meaning of being a midwife and the qualities of success.
Special guests included Professor Jacqueline Dunkley Bent, Head of Maternity, Children and Young People at NHS England and visiting Professor of Midwifery at King's College London. Elizabeth Duff, former Iolanthe Executive Director and Senior Policy Advisor at NCT presented an award in her name, given to projects which support the midwife-mother relationship
Award winner Laura Abbott from the University of Hertfordshire gave a powerful account of her work with pregnant women in prisons and Sarah Scarlett, a student midwife from the University of West Scotland gave an interactive talk to show how learning British Sign Language helps her give midwifery care to deaf women.
Watch our 2017 Awards video: