Polly's award funded her attendance on a counselling course which helps her in her role as Specialist Infant Feeding Midwife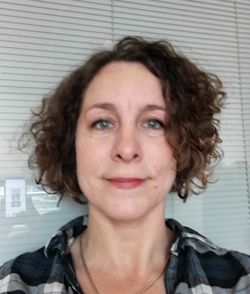 Thanks to receiving the Iolanthe Award, I was able to attend the 'Introduction to Counselling' course at the renowned Minster Centre in North West London in the early part of 2017.
At that time, I was due to commence a Listening and Signposting Clinic at my hospital trust for women in pregnancy who were experiencing increased anxiety or low mood but did not at the time of referral meet the threshold for perinatal or therapeutic care. Part of my role as specialist midwife for perinatal mental health was ensuring midwives had options to offer women in terms of support, so the clinic was to be put in place to provide a catalyst for finding good options for women.
As midwives, good listening skills are imperative to our practice but we don't always perceive we have the time to put them into good use. The course provided a strong basic framework for building a therapeutic relationship with women, and taught us techniques that could easily be implemented within busy clinics as well as something more tailored.
As fate would have it, I moved into a new seconded position a within my trust in April, soon after the course and gaining my award. This new position was directly related to training and qualifying as a Lactation Consultant so it was a role I needed to embrace. Luckily, I could pass the framework and content of the Listening and Signposting clinic to my secondment covering midwife.
My current role is Specialist Infant Feeding Midwife in Lambeth, a role where listening to sometimes extremely vulnerable new mothers in infant feeding drop in groups is a large part of the role.
Having the ability to use techniques from the Introduction to Counselling course to help women unpick the multitude of worries and feelings of guilt about becoming a mother, mainly relating to feeding, is immensely helpful.
All in all, the type of course I was able to complete would be incredibly beneficial for any midwife or health care provider, so I feel incredibly lucky and informed by the experience.
Thanks to Iolanthe and the board of trustees for the award and a delightful presentation evening.