Kate used her funding to attend a 'Midwifery Today' conference in Helsinki, Finland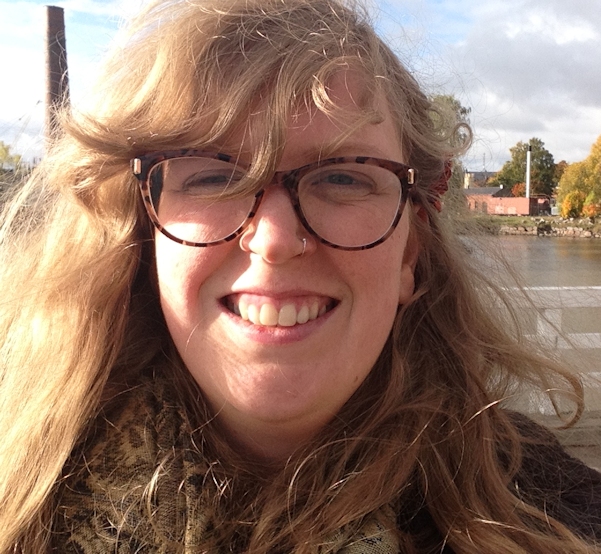 I was so thrilled when I was granted the Iolanthe Student Award to enable me to attend a Midwifery Today International Conference, something I had dreamed of being able to go to for some time. In between applying for the award and attending the conference some major events happened in my life. I was finishing up my final year's training, I found out I was pregnant and I got offered work in a rural midwife-led unit. All of these things contributed to my experience of attending the conference.
Not having left the UK for nearly 8 years and never having attended an international conference (or any conference on my own for that matter) and being 32 weeks pregnant led me to have quite a few nerves in the run up to my trip. However I quickly found out they were unfounded as everyone I met was lovely, warm and welcoming.                                  
One of the earliest difficulties I had in this experience was choosing which sessions to attend, as there was so much amazing information offered! I had a fantastic day learning acupressure and Gua Sha (both traditional Chinese medicine techniques) for relaxation and comfort in pregnancy and birth and had an illuminating session on the science of synthetic oxytocin and its effects on maternal breast oxytocin receptors.
There was a difficult but useful talk about supporting survivors of trauma and also an eye-opening talk about labour progress, assessing long labours and practical ways to assist descent depending on location of the baby within the pelvis.
The location of the conference was amazing, an old heritage site on an Island of the coast of Helsinki and it was fascinating to speak with midwives, birth workers, doulas and obstetricians from around the world and hear the variety of experiences that women receive in these different countries.
In one of the lectures there was a very thought-provoking discussion about evidence-based protocols, in which we discovered that protocols varied quite significantly from country to country although all were 'evidence based'… raising questions about the quality and variety of evidence used and how much knowledge we still don't actually have to support our practices. One particular example used was the length of time a woman was 'allowed' to establish active labour in an augmentation or induction after performing an ARM before oxytocics would be commenced. (which varied from no time at all to 18 hours!).
For me Finland's birthing culture is one of a world of opposites, the Finnish government does not support homebirth and so in 2016 there were only 47 homebirths across Finland, all privately funded, and some hospitals in Finland do not support birth in water at all. This said the hospital midwives were extremely well trained in alternative therapies, many using acupuncture, aromatherapy, SpinningBabies® techniques and Gua Sha (a traditional Chinese medicine form of massage) and families in Finland can have 2 years parental leave split between the parents. This gave me enthusiasm for improving the areas of midwifery in the UK that need work but also reminded me of all the aspects we are already doing well!
Going forward in my journey as a mother and as a midwife I am excited about integrating practical and hands-on methods of supporting women and promoting relaxation and comfort with more confidence into my practice and my interest has been peaked into researching further the impacts of common interventions within maternity services and how to counteract the potential side effects of these interventions to lead to more positive outcomes for mothers and babies.
I feel that I have learnt so much about myself and my ability to undertake and enjoy challenges; I will be endeavouring to keep putting myself out there and pushing myself continually. I have already been sharing what I have learnt at the conference amongst colleagues and women I encounter through antenatal classes I run and I hope to go back to my university to give a talk there. I am very grateful for the Iolanthe Trust for giving me this opportunity!