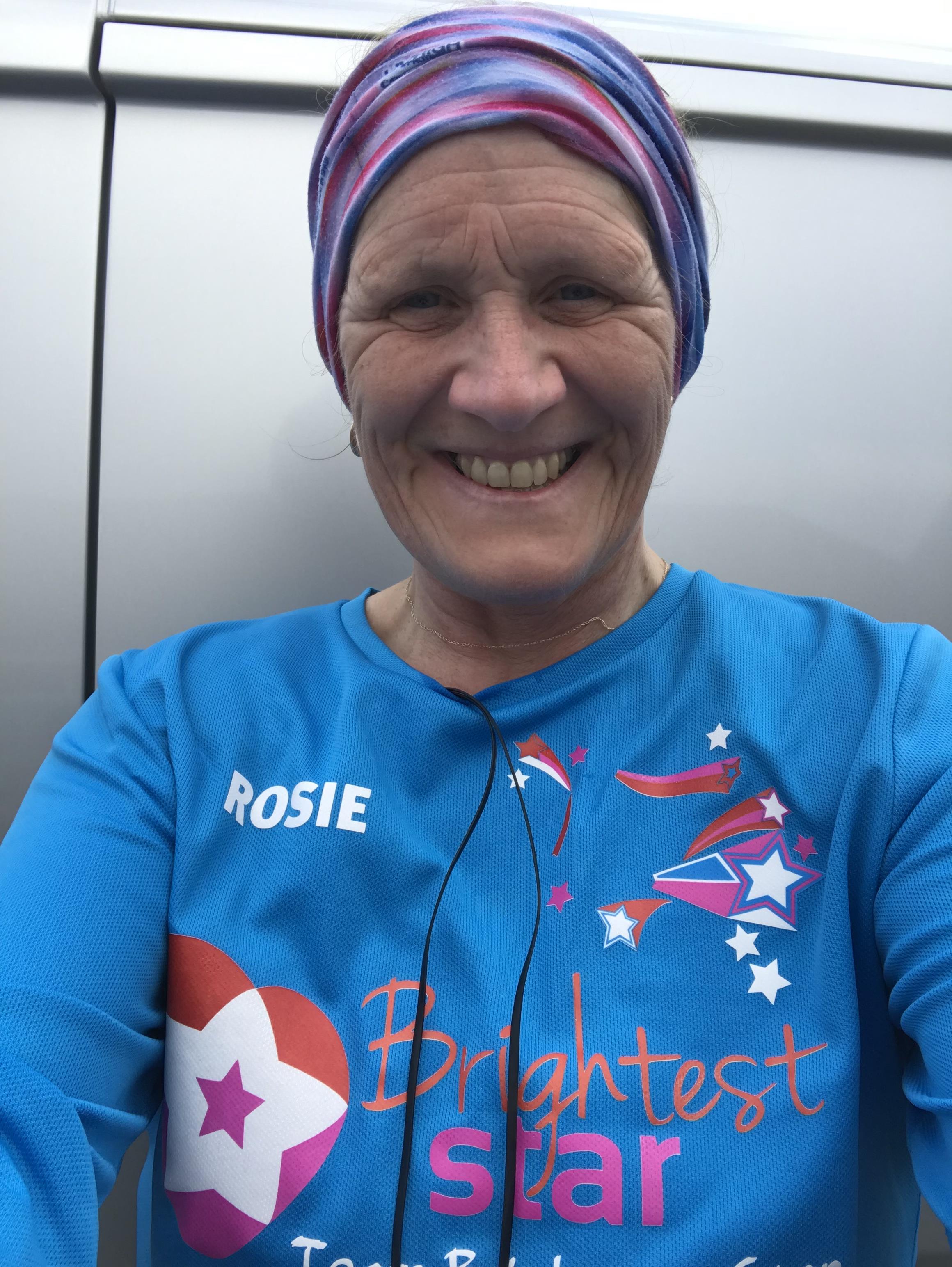 Rosina is running the 2022 London Marathon in memory of her baby Karen, and so Iolanthe can support midwives to go the extra mile.
This past week, says Rosina, is 38 years since she birthed her daughter Karen. Karen lived for just 30 minutes, and in that time, Rosina, who was under a general anaesthetic, never got to meet her. But Karen still spent her brief existence being held in loving arms. "There weren't any such arrangements then, like are on offer now for grieving families; there were no photos or handprints or special rooms," explains Rosina.
"But the midwives – I still remember their names, Sisters Annunciata, Margaret and Gemma – knew what was important. I had a friend who worked in the hospital, who was the same age as me, and they let her come and be with Karen, while I wasn't conscious. She dressed her, wrapped her, held her on my behalf. My friend holds those memories for me, she spent that time with Karen, she can talk with me about her. The midwives didn't have to let any of that happen, but they did."
"Then 13 years ago, my grandson was born. My daughter had pre-eclampsia and gestational diabetes. I was with her – I wasn't supposed to be her birthing partner, but she began labouring 6 weeks early, and I was the one on hand. Again, I can tell you the midwife's name – Mary. She had been with us all day, and she was supposed to go off-duty, just as it became clear that my daughter would need an emergency section. But midwife Mary rang her husband to tell her she wasn't coming home – 'I need to see this through,' she told him. She came into theatre with us both, and because we'd got to know her all day, it made all the difference."
Rosina came to running 15 years ago. "My mum was staying with me long term after an operation, and I just needed to escape the house! So I started going to the gym and it went on from there. My first 10k run, I thought I would die. But I ended up doing a few of them, and then someone said "You could do a half marathon – and I did!
Then I decided I would do ten full marathons by the time I was 50. I've now done 15 and I'll be 55 in November.
For my first, I picked one in Dublin, as they give you 8 hours to complete it, and I thought, well, I could just about walk it in that time, if I had to. I've done 3 ultra marathons now, they are 34 miles. I've run in Belfast, Chicago, and even in Disneyland, where you run through the Magic Kingdom to complete the 'Dopey Challenge'."
For many years, Rosina has been running to raise money for the charity Brightest Star, created by a friend after her son died just before his 6th birthday, who found there was little support available at the time for bereaved parents. Rosina has listened to many of the stories families bring to the charity, and eventually she felt comfortable to speak of the daughter she herself lost. "Some of my friends never knew about Karen at all, until recently," she says.
And that led Rosina to a decision: for the first time, to choose a charity and a marathon to run, specially for herself and for Karen. She began to research different charities, and by chance found Iolanthe. She saw that Iolanthe's funding awards covered a broad spectrum, often assisting midwives to access training or resources to support women and families through difficult times, and was inspired by the projects carried out by some of Iolanthe's winners. She comments on innovations such as the "cuddle cot", a special cool cot that means grieving parents can keep their baby with them for longer. "Funding resources like that, it would make a huge difference to families. They didn't exist when Karen was born, I wish they had."
Rosina knows the London marathon won't be easy.
"It's tough, when you're training in the rain and cold, and you're putting on more layers than an onion. Or when you hit the wall on a marathon - 10k, I can run all day long - but you get up to 19 miles, and you think, why am I doing this? But then I remember: I'm doing it so someone can have the support I did. 
You don't always go into the hospital and come home with a new baby. Nobody thinks about those other stories, until it happens to you. But I've been there, and I know others who have. Iolanthe seems to think about these things – that we need midwives who go the extra mile." Click here for Rosina's London Marathon Just Giving page.