Iolanthe Midwifery Trust remembers the late Joan Greenwood OBE, formerly Midwifery Officer, Department of Health on the receipt of a legacy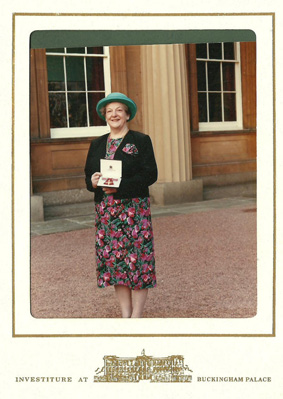 Joan Greenwood was a midwife who rose to become the Midwifery Officer in the Department of Health from 1984 to 1994. Initially a nurse at the Sheffield Royal, she trained as a midwife in Newcastle and York and was for a time the Midwife Treasurer of the Royal College of Midwives. She sadly died in November 2019 at the age of 86. 
Iolanthe Midwifery Trust was fortunate to be remembered in her Will, receiving a generous legacy. Coming at a time of financial challenge for many charities including our own, these additional funds will ease this difficult period of the ongoing pandemic somewhat and enable us to confidently continue to grant awards to midwives and midwifery students knowing we have the funds available to do it.
Ann Stewart, another midwife after whom an Iolanthe Award was named, was Joan's long term companion and the two of them travelled extensively together until Ann's death in 1991.
Our former Executive Director, Elizabeth Duff remembers Joan:
"I first made acquaintance with both Joan and Ann in the late 1980s. Ann was working at the English National Board for Nursing, Midwifery & Health Visiting at the time but was also a member of the Board that oversaw the publication of Midwives Chronicle, journal of the Royal College of Midwives, where I was on the editorial staff.
In this role, I was also attending a number of midwifery conferences and meetings, where Joan was a key voice, from her influential post as Midwifery Officer at the Department of Health. I became aware of her part in creating and publishing the maternity policy document Maternity Care in Action, which although less often cited recently, had a number of innovations that led to the even better known 'Winterton report' (1992) and 'Cumberlege report' Changing Childbirth (1993).
One of the last times I saw Joan was at the celebration of 20 years since Changing Childbirth, held at the Royal College of Obstetricians & Gynaecologists. Iolanthe Patron, Baroness Cumberlege and Dame Cathy Warwick had ensured that Joan was present to reinforce the memory of her role in achieving these radical changes over the years.
During the years that I was director of the Iolanthe Midwifery Trust (2007-2016), Joan was in touch from time to time, keenly interested in the continuation of the Ann Stewart Award and those who won it each year. She also told me, in her straightforward way, that she was planning to leave the Trust a legacy in her will, but wished to be sent the Annual Report each year to be certain that the charity was maintaining its integrity and midwifery focus in an appropriate and responsible fashion. Despite my apprehension, fortunately it seems that she judged the Trustees and Director to have done an adequate job.
I know that both Joan and Ann were deeply committed to the midwifery profession, as autonomous and distinct from other healthcare disciplines, and both worked hard at senior levels to promote its increasing strength and profile. It is highly appropriate that Joan's generous bequest goes to what I believe is the longest established and best known midwifery charity.
Our Chair of Trustees, Jacque Gerrard MBE said of Joan:
"Joan was known to the midwifery profession as a 'woman's midwife' and a 'midwife's midwife'. We remember her for her leadership skills where she used her talents, knowledge and leverage to change and improve midwifery care for mothers and their babies.
Joan had insight into the future for midwifery as she had an impact which helped change the profession to become a more respected and attractive occupation for both men and women. It continued to grow to become today's graduate workforce where midwives and future midwives use the evidence base to deliver safe and high-quality maternity care. It is thanks to Joan and the people she worked with that midwives across the country today are now working with safe midwifery standards in today's NHS.
All at Iolanthe were very sad to hear of Joan's passing. For Joan to leave us her legacy as an influential midwife and change agent is truly something wonderful for our profession. Added to that a sum of money bequeathed to the Iolanthe Midwifery Trust is indeed special and we are all overwhelmed with her kindness.
The Trustees feel that Joan has left a little part of herself to and with Iolanthe. We thank her for that."