Iolanthe celebrated its annual awards at a ceremony on 9th September, hosted by the Department of Midwifery, Kings College, London.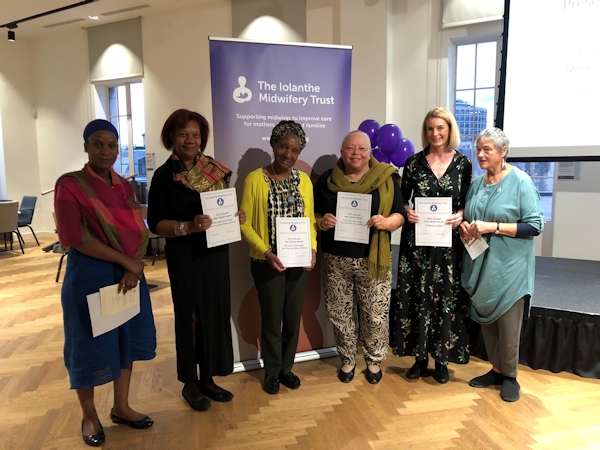 A total of twenty awards were presented this year by Baroness Cumberlege, including the first ever Iolanthe Dora Opoku Student and Midwife Awards, introduced to celebrate the enormous range of skill, wisdom and talent of Black, Asian and Minority Ethnic (BAME) midwives which is often not fully supported within UK healthcare.
This year's Iolanthe Student Awards have funded placements enabling students to develop their midwifery skills in locations ranging from Bangladesh to rural Wales. These winners were: Trisiana Bailey, who won the Dora Opoku Student Award and travelled to Ghana; Amanda Green, Felicity Cremin, Kate Greenstock, Natalie Dibsdale, Sarah Walker and Alexandra Cass. Student Rebecca El Boukili was awarded funding for her vital project creating multilingual leaflets on when to seek help in pregnancy.
The Midwives Award Winners' projects this year were diverse but shared a common objective of improving the quality of midwifery care of all service users. Projects ranged from investigating the impact of working 12-hour shifts on the quality and safety of midwifery care in hospital settings, (Jacqueline Dent) to a study on language services for pregnant women with limited English (Laura Bridle). Other winners were Joyce Adu-Amankwah, Lisa Jayne Rose, Claire Carter, Emma Mills and Sharyn Lock. Sharyn is also the first ever winner of the Mary Cronk Award, created by Iolanthe Midwifery Trust in memory of the inspirational midwife.
Ren Forteath, a midwife from Dumfries and Galloway, is using her Iolanthe Elizabeth Duff Award to stage a musical titled, 'Labours of Love' based on the maternity experiences of a range of service users. Dora Opoku Midwives Award winner Sarah Esegbona-Adeigbe's study, 'Perceptions of Migrant Nigerian Mothers & Midwives' Cultural Competency' is similarly concerned with listening to maternity experiences, which is key to understanding how midwifery services can be improved for all pregnant women and their families. Sarah also won the Ann Stewart Award for commitment to midwifery practice.
The Iolanthe/RCM Jean Davies Award for addressing health inequalities was presented to two very worthy winners: Catherine Collins will be using her funding to undertake a PhD exploring the maternity experiences of women who have been trafficked into the UK. Fellow Jean Davies winner Elsie Gayle and her co-applicants used their funding to organise a conference to address black maternal and perinatal mortality.
Iolanthe would like to congratulate all the award winners and we look forward to seeing the results of their projects! Applications for next year's awards open on 3 December 2019 and close on 3 Februrary 2020.