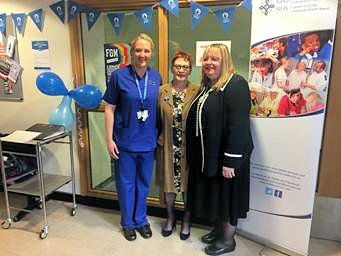 Cardiff and Vale University Health Board has launched Wales's first specialist FGM (female genital mutilation) pilot clinic, with the help of funding from Iolanthe Midwifery Trust awarded to specialist FGM midwife Emily Brace.
Emily won the Jean Davies Award, given to projects which challenge maternal health inequalities. The Jean Davies Award is made in honour of Jean Davies who served for many years as a Trustee of the Iolanthe Midwifery Trust, stepping down in 2012, and in various roles for the RCM during her career. Jean's focus in her work as a practising midwife and researcher was to help those families experiencing social and economic disadvantage, mainly in her home region, the north-east of England.
Emily was also granted the Ann Stewart Award, given at the discretion of the Iolanthe Trustees for her commitment to midwifery practice.
Emily will lead the FGM service, which will be known as the 'Women's Wellbeing Clinic' and will work closely with obstetricians, paediatricians and third sector agency support.
The clinic will be staffed exclusively by females and held weekly. Anyone affected by FGM or seeking advice around FGM can self-refer into the clinic or can be referred via a health clinician, third sector agency, the police or social services with the individual's prior consent.
The vision for the service is to ensure that all females impacted by the physical and psychological trauma of the FGM practice are empowered to access culturally sensitive and individualised care management, support and advice.
Ruth Walker, executive director at Cardiff and Vale, said: "The health board is very pleased to be leading the way for Wales in offering the Women's Wellbeing Clinic in Cardiff."
Emily, our Iolanthe Award Winner said "Thank you so much to all of the trustees for granting me this award. I can't thank you enough and am so excited to be able to see the first clinic reach out to so many women affected. Iolanthe has been able to fill the last missing piece to the jigsaw, enabling the service to finally be commenced."
The Iolanthe award will fund psychological support for women affected by FGM, patient information leaflets in a number of languages and training in deinfibulation surgical techniques.
Congratulations to Emily on her award, and to Cardiff and Vale UHB on the launch of this vital service for the women of Wales.