From an action research study supporting midwives to understand antimicrobial stewardship in the Kabarole district of Uganda, to developing antenatal classes for teenage parents; from studying for an Master of Research in Public Health to supporting local vulnerable populations with parenting help: just a few of the inspiring projects undertaken by Iolanthe Midwifery Trust Award Winners 2018.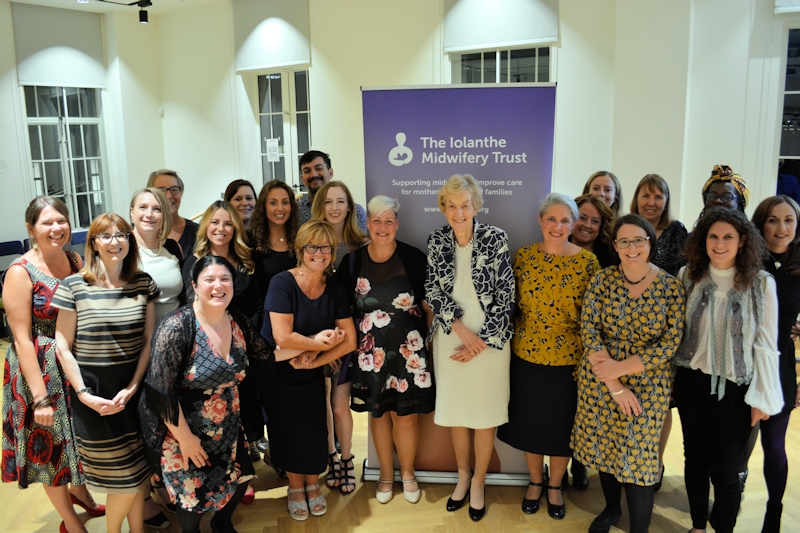 On 13th September 2018, the Award Celebration was hosted by the King's College London Department of Midwifery at the spectacular Bush House. Baroness Cumberlege, patron of the Iolanthe Midwifery Trust and chair of the National Maternity Review presented certificates to midwives and student midwives who had received financial awards to support their professional development with the aim of improving maternity care for the benefit of women, babies and families.
We are delighted to announce 22 worthy award winners this year.  We had a record number of entries this year, and as always we found many worthy projects to fund. This year we are pleased to have been able to offer our Midwifery Research Fellowship to Joanne Welsh. This is a significant award to help a midwifery student write up their PhD research. We congratulate all our award winners. It is a privilege to be able to support the impressive work of such dedicated midwives.
Sheena Byrom OBE, Chair of Trustees
Certificates were also presented to fundraisers who had run the London Marathon 2018.
Professor Soo Downe OBE, Professor in Midwifery Studes at UCLAN gave the Sandy Fyfe Memorial Lecture on why midwifery matters for global health.
Special guests included Dr Yana Richens OBE, Deputy Head of Maternity Services at NHS England and Professor Jane Sandall, Professor of Social Sciences and Women's Health at King's College London. Jean Davies,former Iolanthe Trustee presented an award in her name, given to projects which address inequalities in maternal health.
Midwife Award winners Marie Lewis and Shelly Jones, both from Powys Teaching Health Board, gave a presentation on midwifery-led care in Powys, and their funded projects introducing aromatherapy to mainstream practices and improving training to help women suffering post-birth trauma. Emilee Lowis, a student midwife from the University of Nottingham gave an account of her elective placement at the Ithon Birth Centre, Llandrindod Wells, Powys, funded by an Iolanthe Student Award.