We met up with the unstoppable Iolanthe Award winning midwife Emily Brace to discuss her latest role, what inspired her to run a marathon during COVID and her future in midwifery and Global Health.        
Can tell us a little about your current role or projects?
My current role is a combination of two positions, consultant midwife at Oxford University Hospital (OUH) Foundation Trust and more recently, I was appointed as a Maternity Improvement Advisor (MIA) joining the NHS E National Team.
My consultant midwifery role predominantly oversees the Better Births Strategy and Public Health Agenda. I'm pleased to say that I was able to implement OUH's first case-loading team, which set out to provide a full Continuity of Care model for women identified as having additional complex needs.
You ran the 'Virtual 40' marathon for Iolanthe on 4th October, (replacing the London Marathon due to Covid.)  Can you describe your experience of the event and training? 
Sadly, I lost my father suddenly in January this year, 12 weeks prior to the big run, which was the hardest thing I've ever experienced.  Then Covid-19 hit us all and the Marathon was postponed.  A week prior to the virtual marathon, Wales went into lock-down which is where I had planned my route, leaving me wondering what to do. An amazing colleague, Heidi at OUH, suggested running from one of the Birth Centres to the main John Radcliffe Hospital…. and I thought yes, yes, yes – this is a very apt route for the charity, albeit a little undulating to say the least!
I had fantastic support from my Mum, fiancé, family, friends and colleagues which really helped me achieve this goal. One of my colleagues made a beautiful banner with the Iolanthe logo and others were there to greet me with cheers, chocolate brownies and drums at the finish line. The support was truly incredible and left me so overwhelmed!
Why did you want to support Iolanthe through this event?
Iolanthe have not only helped me personally but provided so many amazing opportunities for colleagues to improve services for women and their families. Iolanthe don't just commend the work, they also recognise its value and provide the financial commitment to initiate new service provision.
I feel so fortunate to have been awarded two of Iolanthe's prestigious awards [the Jean Davies Award for health inequalities and the Ann Stewart Award for dedication to midwifery practice] and I thought this was a way I could contribute by giving something back!
You won the prestigious Iolanthe Jean Davies Award in 2018 – can you tell the readers about the effect winning the award had on the project?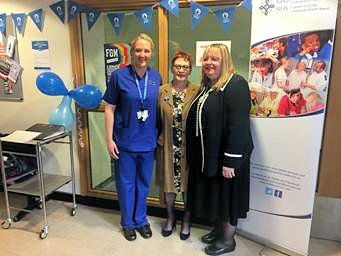 Receiving the Jean Davies Award not only enabled me to launch Wales' first Clinic for survivors of FGM (female genital mutilation), but also decreased a postcode lottery of care system. Prior to the launch of the clinic, survivors would regularly access English services to meet their needs. The positive impact that the clinic has achieved has been invaluable for women and their families and enabled them to access a safe space for support. It will also help protect future generations and address the global development goal of eradicating FGM.
Can you tell us about your passion for Global Health?
​I guess this stems initially from my childhood, which essentially was filtered down via my parents; my mum campaigning for Fairtrade and my Dad's work via UNESCO.
Ensuring safe and equitable access to services has been absorbed into my own values and whilst in Cardiff and the Vale University Health Board, I was fortunate to work as an Asylum Seeker specialist midwife for 5 years and team leader for vulnerable groups. Setting up Wales' first FGM clinic for survivors, supporting victims of modern slavery, gender-based violence, persecution, and forced marriage further ignited my passion for Global Health. It also led me into doing humanitarian aid work in Africa and my MSc in Disaster Healthcare.
What issues do you see as having the most effect on midwifery at the moment?
Compassionate leadership and culture are, for me, two fundamental components to a successful, safe and sustainable service. If we want to retain staff and to ensure that all women and their families have access to equitable and compassionate services, we need to foster the right environment to deliver this.
What kind of roles, projects or study would you like to get involved in in the future and why?
I would very much wish to undertake a PhD alongside the NPEU (National Perinatal Epidemiology Unit, Oxford) and contribute to the wider research and development within our profession as well as becoming further involved with the Global Health agenda. Also, to continue with the national maternity safety work, this is an area that is very close to my heart!
Emily was speaking to Jo James, copywriter.
2022: She's back! Support Emily's London Marathon run in 2022 here