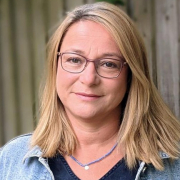 I work as a midwife at the Royal United Hospital in Bath in the maternity department, and I also work part time as a Birth Reflection Midwife. Being a midwife is so more than just delivering babies, I feel so privileged to be present at, and sharing with, such a life changing event with the women and their families.
Since June 2019 I have been also practising as a Birth Reflection Midwife. Within our Trust we are offering this service to our women and their partners so that they can reflect on their birthing experience. It is a service which is in high demand and receives very positive feedback.
Working as a Birth Reflection Midwife gives me the opportunity to use all my relevant skills and experience to provide reflectively informed discussion of events that women and their families like to review. This also gives me the chance to develop further understanding about how women, their partners and their families feel, and how we can make a difference to them and change our service for the better.
We are meeting women and partners who are dealing with open questions regarding their birth experience, sometimes after birth trauma which may lead to fear of childbirth in the next pregnancy or contribute to other mental health problems. As the BRF staff are not currently provided with specific training, and women only have one appointment, it can be challenging to respond to these disclosures, and it feels tailored care is needed for these
woman and families so that individuals can receive the best advice. 
To improve my own skill, our service and the care we provide, I am soon going to start the Birth Trauma Resolution therapy (BTR) course.
This is a unique programme of learning, designed to offer birth professionals the necessary screening systems and effective tools and techniques to treat birth trauma and the associated symptoms quickly, safely, and effectively.
The BTR Therapy course is also accredited by the Royal College of Midwives (RCM) and was developed in response to the growing need for an effective, fast and safe treatment for birth trauma and PTSD. I am so excited to start on the 10.10.2022 and could have not done and enrolled in this course without the Iolanthe Award.
I am looking forward to updating you on my progress and the improvements it will have made to our work.