My journey to midwifery
18 months ago, I quit a well-paid, permanent job in environmental permitting at the Environment Agency, in Bristol and moved to Scotland with my family to begin my journey to becoming a midwife at the University of the West of Scotland.

What had become a niggling feeling about 10 years ago, turned into a growing need for change and fulfilment in my career. Following the birth of my two daughters and a short but revelatory work experience at Bluebell Care Trust I recognised the pivotal role midwives play in facilitating empowering birthing experiences  (Bluebell Care Trust, 2022). I realised that holistic midwifery had positive short term and long-term impacts on womens lives. I decided to take a gamble and apply for the midwifery degree. 
Entering a midwifery degree is a baptism of fire. It pushes and pulls you as a person; what you can juggle, memorise, handle physically and emotionally.  Fighting sleep deprivation, learning new names, new locations, corridors, procedures, politics, policies, and drugs. 
In first year, we're taught 'normal' physiology the process of birth and caring for a woman and her family during the perinatal period. There is an expectation that we are uncoordinated and supernumerary, we have basic knowledge, and we require full supervision and prompting. 
In second year, there is a big step we climb to becoming more coordinated, working with support, with less prompting and a wider knowledge base. We also enter the theory territory of complex birth, pathophysiology, and obstetric emergencies. 
Why learn about Hypnobirthing? 
I applied for funding from the Iolanthe Midwifery Trust and was lucky enough to receive funding for a KG Hypnobirthing Teacher Training course. The course came at a good time in the midst of preparation for the Obstretric Emergency exams. I was looking forward to learning skills which I could take back to support women on my forthcoming labour ward placement. 
The application for the Student Iolanthe fund was relatively straightforward. I put together my application with support from my Personal Tutor at UWS, a statement from a very helpful KG Hypnobirthing employee and the information and guidance provided on the Iolanthe website.  For fellow students, if you are considering applying, I would say the results of gaining the award massively outweighs the effort of the application form, so go for it! (Iolanthe Midwifery Trust, 2022; KG Hypnobirthing, 2022). 
In 2019 I volunteered at Bluebell Care Trust in Bristol a charity to support families suffering from perinatal mental health challenges. I would love to use hypnobirthing skills to reach out to women and families with perinatal mental health challenges through volunteering.  By working with a charity this would hopefully enable women and families from vulnerable backgrounds and diverse ethnic communities' access to antenatal hypnobirthing care. As a hypnobirthing instructor I want to make a positive difference to the lives of families and their babies.  
As a student midwife I have studied the concepts of pain and non- pharmacological methods of pain control.  I have considered the evidence that methods such as hypnosis, massage and hydrotherapy can reduce pain and/or reduce the need for pharmacological analgesia (Tiran, 2017; Jackson, Anderson and Marshall, 2020). The benefits of increased oxytocin release also provides pain relief for the new-born baby, with immediate skin to skin contact between mother and baby having a positive impact on bonding and attachment whilst promoting breastfeeding and possibly long-term health outcomes for mother and baby (Buckley and Moberg, 2019).  
As a Hypnobirthing trainee teacher, I hoped to learn more than just a few techniques to use in labour. The course is a complete antenatal programme to understand the woman's reality so that she releases fear, trusts her instincts, and learns to work with her body.  I would like the course to open the doors of what choices are available in childbirth for women and families outside of the medical model of childbirth. 
Journey to London 
When travelling to London it strikes me that hypnobirthing is often associated with low-risk woman, hippies, water birth and freebirthing.  However, one of the most powerful moments I have had on placement was in theatre when a women used hypnobirthing while having an emergency caesarean section to control her breathing, her fear and to keep her calm during a frightening and what could be traumatic event.  This woman managed to take back control of an event that was not part of her birth plan and that she was scared of. I think this is important that we take a holistic approach to hypnobirthing and be careful not to exclude birthing people who cannot follow a low-risk pathway. 
Meeting other trainees 
The class was held in the wonderful 'Light Centre' near Victoria Train Station in London. We had a class of midwives, yogis, engineers, and a social worker. It was a range of experience and backgrounds which contributed to discussions and perspectives.  
Over the three days we explored our language around childbirth, basic physiology, relaxations, hypnosis, breathing, the barriers to empowered birth and the tools to dismantle these barriers (Graves, 2021).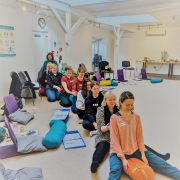 What was beautiful about the course was that I felt I came away with a large number of resources and skills, not just for birthing people that I will care for in the future, but also for myself and my family. I found that hypnobirthing skills can be used in every-day life to bring calm and control to stressful or challenging situations.   
Nancy, our teacher, facilitated our learning passionately and calmly and opened our eyes to research, benefits and risks, which even the most experienced of midwives will lose sight of in 'the system'.  
The biscuits were excellent. 
My worries 
I do feel concerned about how I will be able to use these skills while being a student midwife in 'the system' myself, reflecting on time constraints, fatigue, lack of continuity from previous placements and with the women in my care. 
I remind myself that changes can be small as a well as big. I also remind myself of the realistic sphere of influence I can have as a midwifery student. Listening to birthing people fully; their concerns, fears, ideas and wishes.  Using the BRAINS acronym for decision making to consider each procedure in terms of B-R-A-I-N-S; Benefits, Repercussions, Alternatives, Information, do Nothing, Smile  (Graves, 2021, p. 213). My language, for example, not using the word 'allowed', or as Nancy our teacher more eloquently put, "It's the difference between having something done to you and informed consent". 
Time limitation is one of the biggest pressures we have in delivering an informed maternity service, so we can all make a difference by working smartly to ensure we have these conversations. I now understand that, despite the setting or the system we work in, we can still have a positive impact on a person's birth experience.  
Going forward 
In future I plan to teach hynobirthing to birthing people and their partners to empower them to ask questions, find their own path, have an informed and empowered birth and to BREATHE. 
Since completing the course I have been practicing hypnosis and relaxation on my daughter, who one morning refused to go to school and for a family member going through a rough patch. 
I never knew that my midwifery journey would lend me tools for use both in and out of practice. I love this new area of study which I plan to keep practicing, growing and learning from.  
References:
Bluebell Care Trust (2022). Available at: https://bluebellcare.org/ (Accessed: 25 January 2022). 
Buckly, S. and Moberg, U. (2019) 'Nature and consequences of oxtocin and other neurohormones during perinatal period', in Downe, S. and Byrom, S. (eds.) Squaring the Circle: Normal birth research, theory and practice in a technological age. London: Pinter and Martin. 
Gibbs, G. (1988) Learning by doing: A guide to teaching and learning methods. Oxford: Oxford Polytechnic. 
Graves, K. (2021) The Hypnobirthing Book - Childbirth with Confidence and Calm: The definitive guide to childbirth from the home of hypnobirthing. Wiltshire: Katherine Publishing. 
Iolanthe Midwifery Trust (2022). Available at: https://www.iolanthe.org/ (Accessed: 05 January 2022). 
Jackson, K., Anderson, M. and Marshall, J. E. (2020) 'Physiology and Care During the First Stage of Labour ', in Marshall, J.E.a.R., M. D. (ed.) Myles Textbook for Midwives. 17th ed. Amsterdam: Elsevier. 
KG Hypnobirthing (2022). Available at: https://www.kghypnobirthing.com/ (Accessed: 10 January 2022). 
Pears, R. and Shields, G. (2019) Cite them right: The essential referencing guide. 11th edn. Basingstoke: Palgrave Macmillan. 
Tiran, D. (2017) Baillière's Midwives' Dictionary. London: Elsevier.