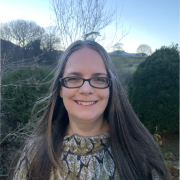 Katie hosted a Biomechanics for Birth course for midwives at Betsi Cadwaladr University Health Board.
In February 2021 I applied for an award to provide the funding for myself and my colleagues to attend Biomechanics for Birth training with Molly O'Brien.
The one-day online training would look at how the mother and her baby interact and align through muscle, fascia, and bone.
We would look at the Mexican tradition of using a woven cotton cloth called a Rebozo to gently work with the woman/birthing person's body to relax her muscles and support the natural physiology of birth.
We would learn about how labour dystocia can be predicted way before adjusting birth environment for lighting and sounds, language and tone of voice, and the creation of trust. All these are so important but if nutation and counter nutation are not in our tool kit then we may run out of options at a critical time!
We would learn about how many of the processes we use to 'diagnose' labour or assess 'progress' are flawed and that these procedures can harm, and we must examine their worth critically. I refer to the decision making that will often come from performing a vaginal examination and how assessing the progress may not help as it certainly isn't a linear process.
The art and science of Midwifery is a combination of working with women and listening to them, so that we form relationships and quickly build rapport. The success of an outcome for mother and baby is determined by her trust in us, in our ability to watch and listen, and to use our learnt and honed skills to protect and prepare. We take research and long-standing knowledge, and we work within the realm of expert advocate.
The science part is understanding how physiology works; it comes from examining research and looking at what women/birthing people and their families want and expect. The safety of that process is not only referring for extra care at the point when our remit has been reached and when things are deviating, but to continue to support that physiology with due care and attention.
The learning from others in the Maternity world via social media and the resultant sharing of information supported my application. The adage of not reinventing the wheel and collaboration is paramount. I first became aware of Molly via the Association of Radical midwives (ARM) conference in November 2020. In January 2021 I attended a colleague's Iolanthe funded study day and it was this, combined with reading Deepa Santhosh's tweet about a QI project which inspired my application.
Deepa is a Midwifery Masters student and had worked with her senior midwifery colleagues on improving their upright birth rate. The rate went from 25% to 62% over the course of a year, and Deepa was kind enough to share the details of the project with me. One of the steps was to provide Biomechanics for Birth training for staff, as well as displaying posters showing different upright birth positions and running active birth classes.
A big part of this discussion around birthing position was discussed by Consultant Obstetrician Florence Wilcock in her podcast The Obs Pod. Years earlier she had set up with a collaborator and friend Gill Phillips a hashtag #MatExp and part of this was looking at the experiences of women and birthing people. This resulted in the lithotomy challenge (#lithotomychallenge) where she adopted the position, to see how it felt and to give her colleagues an experience and chance to pause for reflection on this increasingly common birthing position. Interestingly she describes feeling simultaneously invisible and exposed and that the first person to talk to her and check on her wellbeing was the local MVP lead, who gave her a foot massage.
The podcast, developed like many, during the pandemic, has become an invaluable resource to midwives and maternity colleagues alike. The lithotomy episode referenced the Care Quality Commission report 2019, where, despite instruments not being used, over 20% of women gave birth in this position. This 'stranded beetle' position is beneficial for forceps in the birth room when all options have been examined. Some skilled practitioners are able to help a baby be born with ventouse in an upright position. Indeed, there are Midwives who are also ventouse practitioners. It's akin to a tongue tie practitioner also being a lactation consultant; we can assess the normal first before implementing an intervention.
Many of the practises in midwifery and maternity exist because 'we've always done it this way' or are potentially based on evidence of limited value. What lithotomy does, when assistance isn't required for birth, is create good visibility and access for the HCP, but ignores nutation and counter nutation and the positive effect of gravity. In fact, the BUMPES study showed that the side lying position was preferable to sitting upright for second stage in nulliparous women when they had a low dose epidural. The study also showed that only 41% of the women in the study had a spontaneous birth. With increasing induction rates and with this use of induction, biomechanics for birth has never been more pertinent for maternity care.
Deepa had integrated this exercise into her QI project and after listening to The Obs Pod podcast I was strongly engaged in wanting to bring this to my Health Board. This part of my application didn't come to fruition unfortunately. I wasn't able to engage the Obstetricians remotely at the time and my sphere of influence as Dr Rachel Reed so eloquently puts it, was affected by being non clinical, and unable to directly liaise with colleagues and offer to organise the challenges. Unfortunately, we also had our passionate Consultant Midwife leave who I had hoped would be a strong ally. I continue to hope that my ex-colleagues will take up this project, as unfortunately I left the Health Board in September.
I regularly update the group chats with info, articles, etc and ensured all participants on FaceBook were aware of the Biomechanics for Birth group. I've had some great feedback about how much the course was enjoyed and how they are using or planning to use the course teachings. Course participants also tell me the group is highly informative.
So, there were challenges and the full project as it had been planned originally was altered.
I feel incredibly lucky and grateful for the award and the fact that it came at a time when I felt like my midwifery contribution was limited due to the covid 19 pandemic.
The award helped me feel like I was giving something to the women and birthing people of North Wales, and of course to my hardworking colleagues.
When I met with the Head of Midwifery for the first time, she agreed to fully support the project and was supportive of my plan on how to allocate the spaces on the course. My intention was to allocate places to the AMU leads and deputies at the 3 sites and to labour ward coordinators; I wanted to ensure that those midwives already in a position of leadership could take the teaching forward to colleagues. The rest were randomly allocated to those who applied via their matron, split equally between sites and hospital and community teams, as I wanted equity and for the reach of the training to be as far as possible.
The HoM offered immediately to contribute to the award total and this gave us an incredible 54 paid for places, with my original aim being 32-36. This was quite impactful at approximately 14% of the health board's Midwives (2017 number). She also agreed to paid study time; I was over the moon. I continued to liaise with my colleagues and Molly and Tim to ensure that in total over 50 staff were taught.
I am so grateful for the opportunity that the Iolanthe award gave me and my colleagues with the aim of improving care for the pregnant women and birthing people of North Wales. The pandemic has brought many struggles for the birthing community, the logistics for women with changing services and for the staff adapting to new working conditions. I am very glad that this funding ensured that midwives were able to study a subject so important to the fundamentals of midwifery and take that care back to the women and birthing people.
I hope to collaborate with local doulas who are working with women in our community, see how this innate wisdom about birth is being shared by other birth workers. I wish to spread the knowledge and return to attend the advanced course with Molly in the future. Thank you so much to all involved for this opportunity that widened my learning so significantly and gave such possibility for change in the North Wales midwifery service.
Katie Poljakovic RM