Sarah is our first Dora Opoku Midwives Award winner. This is an award for midwives from Black, Asian or other ethnic communities, named in honour of Ghanaian educationalist Dora Opoku.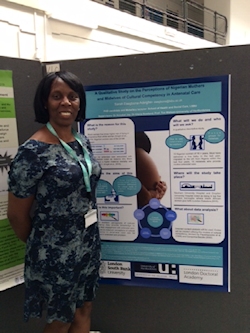 "The Iolanthe Award was a huge benefit to funding my studies. I am undertaking a Midwifery PhD, and my research project is a qualitative study of the perceptions of Nigerian mothers and midwives of cultural competency in antenatal care. The maternal mortality for black women is five times higher compared to white women and there has been links to poor use of antenatal care due to cultural issues. This has been a topic that I have been passionate about, being a second generation black African and a mother. I was privileged that I was given the first Dora Opoku Award for a BAME Midwife for the recognition of my work.
The Iolanthe award paid for my PhD tuition fees so that I was able to receive the supervisory support to continue with seeking ethical approval for my research study. Work involved designing information sheets for women and midwife participants for the study and devising an interview guide which was reviewed by a team of maternity advocate/interpreters and a Professional Midwifery Advocate. After intensive work in preparing the ethics forms, the application for ethical approval has been submitted and pending approval the plan is to commence data collection later this year.
The findings from this study will assist in understanding what black African women's needs are during antenatal care which may lead to improving antenatal care provision.
The additional Ann Stewart Award provided me with the financial support to take time out from my job to continue contributing to improving black African women's health during pregnancy. I have been able to do further research and disseminate my findings on issues pertinent to my PhD studies. I submitted a poster presentation to the London South Bank University Summer Research Conference in July 2019. The Virtual International Day of the Midwife on the 5th May 2020 published my poster presentation on my PhD project on their website which provided an opportunity to disseminate my research to a worldwide population.
I have had an article accepted by the European Journal of Midwifery on Covid-19 and antenatal care which focused on the concerns for hard to reach women negotiating antenatal care during the pandemic.
Covid 19 has highlighted the physical and psychological stresses that black African women face during pregnancy and increased mortality for BAME groups emphasising the need for my research in this area.
Thank you Iolanthe Midwifery Trust for your support in my project."
Sarah's publications on cultural safety:
Article for All4Maternity - Cultural safety in midwifery practice: protecting the cultural identity of the woman
Watch Sarah talk about why she applied for an award: