Amanda took up a student placement in Kathmandu, Nepal.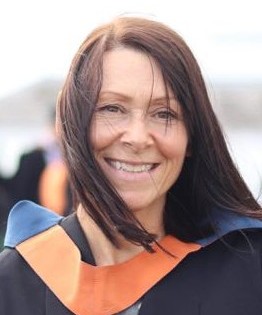 At the outset of my journey as a student midwife, my aim was to ultimately gain knowledge of midwifery services in an under-developed country, acquiring experience in many areas not available to me in the United Kingdom, in turn improving my skills as a midwife. Midwifery is becoming increasingly multi-cultural, caring for women and their families of many different ethnicities, cultures and beliefs and my experiences have been invaluable to me as a newly qualified midwife.  The Iolanthe fund helped me achieve my placement by contributing towards the travel, equipment and insurance, for which I am so grateful. 
During my placement I learned about coping mechanisms for labouring without the support of partners and analgesia and observed how midwives cared for women with a lack of resources.
I also witnessed some practices which would be considered unethical here. However, this has instilled in me an even greater motivation to obtain informed consent, particularly with those women whose first language is not English or for those who have communication issues. My experiences also reinforced the importance of training in obstetric emergencies.  We sadly witnessed the devastating effect of the lack of a co-ordinated response to emergencies and lack of properly working equipment.
Kathmandu is densely populated, and many women do not have access to antenatal care.  Many have co-morbidities. There were three beds from six in one bay dedicated to women with heart conditions.  Nepal has no new-born screening programmes, so untreated heart conditions are common. The hospital was government funded and although a vaginal birth in the hospital is free, the women provide their own needles and bottles for blood to be taken, their own thermometers and any drugs they may need, which are pre-purchased and women often turn up with no supplies at all. It certainly makes me even more grateful to be part of the National Health Service whose core services are free for all, regardless of financial standing.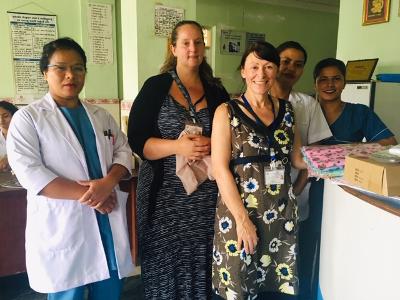 I was keen to make donations to those most in need and I took with me a case of new baby clothes and sanitary products.  My colleague and I set up a fundraising page whilst in Nepal and were able to donate two handheld dopplers with rechargeable batteries, enabling more women to be safely monitored.   We purchased locally sanitary protection, hand sanitiser, and sets of brightly coloured cloth squares, which double as clothes to swaddle the babies, nappies and head scarfs! We gave these to the hospital to distribute over time to the most in need.
I am so grateful to have received a donation from the Iolanthe fund.  I returned with a wealth of experience and knowledge which will stay with me forever, enabling me to continue to give kind and compassionate care to all women, with an increased emphasis on good communication.