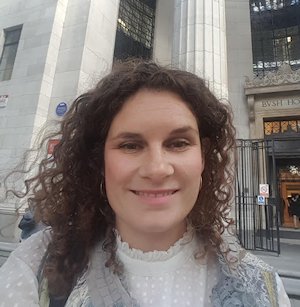 I was lucky enough to win an Iolanthe Midwives award in 2018 to fund three courses:
Introduction to Aromatherapy in Midwifery
Advanced Aromatherapy in Midwifery
Pregnancy Massage Diploma
Since 2016 I have been working part-time as a Midwife on the Alongside Midwifery Led Unit in Sheffield and part-time working as a Hypnobirthing Practitioner and Massage Therapist. This way of working has given me the opportunity to observe and understand the advantages of complementary therapies in pregnancy and labour.
Despite being able to offer Hypnobirthing to women privately, I have wanted to provide complementary therapies to women I cared for in the NHS setting too. I have come to learn that aromatherapy and massage:
Provides pain relief using non pharmacological methods
Aids relaxation and reduces fear
Increases oxytocin for mothers and therefore their babies
Improves the relationship between the midwife and the woman
Helps to normalise childbirth where appropriate
Is a cost-effective service
Helps birth partners become involved in their partner's care
I felt inspired and had a vision to improve the Jessop Wing's current complementary services and I wanted to inspire others to do the same. However, due to my reduced income funding these courses would not have been possible without the Iolanthe Trust.
The Aromatherapy courses consisted of four intensive enjoyable days learning about different essential oils suitable for pregnancy/labour, the safety aspects, the methods of providing aromatherapy and research in this area. They provided me with the confidence to approach management to suggest improving our current aromatherapy services. This was successful and since then training has been paid for and provided to all MLU and community midwives. I have also started an aromatherapy audit, with the hope that it will demonstrate some of the positive effects of this service providing evidence to advance the services even further within the maternity unit.
I am part-way through the Pregnancy Massage course delivered by Suzanne Yates who I find knowledgeable and inspirational.  Already, I am understanding how to support women with massage and its positive effects.
I have recently been offered the full-time job of being one of the Band 7 Midwifery led Unit Lead/Co-ordinators. I applied for this job with the intention of being able to develop Sheffield's MLU into a unit that inspires midwives to work autonomously and holistically and where women can receive gold standard Midwifery led care that includes complementary therapies.
I know aromatherapy and massage can give midwives wonderful job satisfaction, allowing the midwife to connect on a deeper level with the mother. It gives a huge opportunity for midwives to be 'With Woman' during a time when labour care is becoming more medicalised. I want to pass on this inspiration to Sheffield's midwives.
I am exceedingly excited to have this opportunity to help develop Sheffield's MLU and I firmly believe that this is largely due to the opportunities that have arisen through the Iolanthe award.