Linda applied for an award to help fund her elective placement in Ghana to compare mental health services there with those in the UK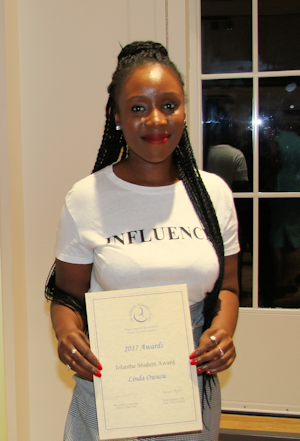 The main objective of taking my elective placement in Takoradi, Ghana was to compare mental health services with those in the UK (London). Stemming from the startling statistics produced by the Maternity Review of inequalities amongst ethnic minorities and mental health issues. I spent two weeks in a Mother and Baby Unit in London which was an insightful experience. In stark contrast, the care provided in Ghana was almost non-existent in relation to perinatal mental health. The whole experience has made me appreciate what we have in the UK and feel proud to work for the NHS: the multidisciplinary team work extremely hard to care for women and their families through a traumatic time in their life.
---
In Ghana, there are no Mother and Baby Units, just a three-bedded room which is understaffed and managed by nurses with no input from a psychiatrist.
Although there may be a lack of resources, they make do with what they have and do the best they can for their clients. Mental health issues were not as taboo as I had originally thought with people able to access walk- in clinics if they have concerns for themselves or relatives.
Whilst in Ghana, I had the opportunity to work in the delivery suite. With many emergencies, including a PPH and neonatal resuscitation (which led to a stillbirth), my emergency skills significantly improved. Being exposed to high risk situations with limited resources empowered me to use my initiative and enhance my confidence.
In Ghana, pain relief during labour is unavailable. Initially I found this barbaric, but I quickly saw that how empowering it was for women to use their strength to deliver their babies safely. This has further enhanced my belief that the female body is designed to deliver babies naturally, in conjunction with the use of positions in labour and guidance of an assertive midwife to help women cope. All women receive a book with bible passages as religion is integral in Ghana and this was an effective coping mechanism for some women.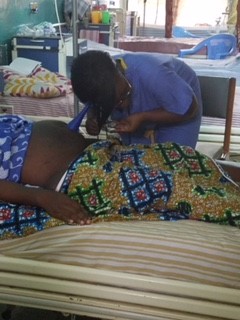 Time spent on the antenatal ward encouraged me to develop my palpation skills and confidence (by diagnosing a breech) as well as fetal auscultation using a pinnard stethoscope.
---
I also spent time in a HIV Clinic. I thoroughly enjoyed this experience as women shared their experiences and concerns to newly diagnosed women. However, it was a bittersweet encounter as I was informed by staff that some women in the group stigmatise each other in an attempt to divert attention from themselves.
A highlight of my trip was being called to the paediatric ward to offer breastfeeding support, A mother was being vehemently told by staff she had no milk supply, resulting in her feeling responsible for her baby being admitted for malnutrition. We hand-expressed as the baby was not latching to the breast successfully. I have never been so happy to see a drop of milk! The reaction from the mother was priceless. I was reduced to tears as I was told she had never smiled up until this point. It was an emotional moment as she had been convinced she had no milk and had little support to persevere with breastfeeding.
Outside of the hospital I met some extraordinary people including students and staff who will be friends for life. I had the chance to visit a special needs school and orphanage. The children I met had a significant impact on me. Their positive attitudes and spirits truly inspired me. Despite their horrific encounters, their smiles lit up the room. This whole experience has evoked a powerful determination for me to return and help the hospital, school and orphanage. The work they do is amazing, and I feel truly honoured to have witnessed a snapshot of this. Without the Iolanthe Midwifery award this special experience would have not been possible.
Winning the Iolanthe Midwifery Award was a privilege and I will forever be grateful! The award enabled me to fulfil personal and professional goals. THANK YOU!