Julie Wray, now a senior midwifery lecturer at the University of Salford, received an Iolanthe Midwifery Fellowship to write up her PhD research on women's health after childbirth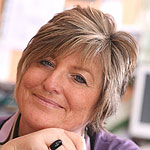 The 2008 Research Fellowship was awarded to midwife Julie Wray, who was pursuing her PhD studies at the Salford Centre for Nursing, Midwifery and Collaborative Research, University of Salford. The Fellowship will provided funding for the final phase of the doctorate which was submitted in 2009.
Julie's research focused on what 'birth recovery' – the period in which new mothers receive postnatal care - and the following months. Julie writes that, 'This time after birth is profound and overwhelming as women embark upon their adjustment to mothering … around 23% of women have a surgical birth and so will be regarded as 'post-operative' after birth. In many ways women are rehabilitating, in that it involves a continuous and multi-faceted process requiring a range of skills and expertise'.
The over-arching aim of the study was to strengthen the evidence base for enhancing postnatal services through increased understanding of care from a cultural and health viewpoint.
Julie commented:
Professionally, being supported to complete the PhD on a topic and methodology that has been marginalised at times would contribute towards "added value" and meaning to the study and to midwifery. I feel that the voices of these women and their stories could act as a strong platform to improve postnatal care in the future … Personally, this is such a wonderful opportunity and I am so proud to be selected for the 2008 award