Andrew Symon, Senior Lecturer at the Mother and Infant Research Unit, University of Dundee, was awarded an Iolanthe Midwifery Research Fellowship in 1995.  Here he describes the impact it has had on his career.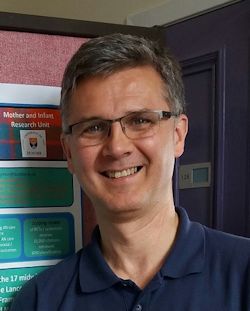 I was awarded the inaugural Research Fellowship by the Iolanthe Trust in 1995. This helped to fund my PhD, which I had begun in 1993, and which concerned the extent, nature and implications of perinatal litigation. In the mid-1990s this was a huge concern to the health services, with fears that we were about to be swamped by a US-style litigation crisis. The Iolanthe award meant I could continue my PhD while working part-time as a midwife in Perth. Working in the clinical areas helped to ground my research, as the legal claims I was studying were all clinically based. The award also covered some of the costs related to studying the medico-legal files. The research provided hard data on the incidence of litigation, which helped to refute the belief (only half-jokingly expressed) that it was just a matter of time before every midwife ended up in court.
Any midwife trying to study at postgraduate level will probably tell you that negotiating time and securing money are two of the biggest challenges. The award was undoubtedly a big factor in allowing me to continue studying for my PhD.
Other things had to be in place too – a supportive wife, and a manager who also allowed me 'time off' to conduct the research. Having dedicated days for the concentrated work of thinking, analysing and writing was essential – I really couldn't have managed to do it all if I'd had to work full-time.
Jenny Sleep, then on the board of the Iolanthe Trust, was kind enough to tell me that the award also represented a good return on investment for the Trust, as I published and presented quite extensively, especially after completing the PhD in 1997. All articles and conference or seminar talks based on the PhD noted the Iolanthe Trust's significant contribution. As well as two books which came from the thesis, the research led to two more books based on related follow-up work, as well as a long-standing legal column in the British Journal of Midwifery, and a chapter in the latest Mayes' Textbook for Midwives. While sometimes daunting, medico-legal issues remain for me a fascinating aspect of contemporary midwifery.
Lots of things have to be in place in order to travel the PhD journey. Having the support of the Iolanthe Trust was a significant contributor to that journey being successfully completed. I am very grateful to the Trust for having invested in me.