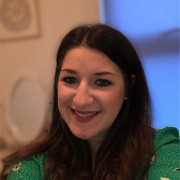 Rachel is a practising midwife working in the NHS in a busy central London Hospital, currently working as a labour ward coordinator.
Rachel has worked across varying areas of midwifery practice and is particularly passionate about continuity of care and the role it can play in reducing health inequalities. Having taken part in the Florence Nightingale Foundation NHS 70 Leadership Programme, Rachel recognises the value of compassionate midwifery leadership and of the importance of empowering midwives and student midwives to improve maternity services.
Rachel also feels strongly about the importance of professional development and ongoing educational opportunities as a means of bettering midwifery practice and innovation. Rachel loves to learn and has recently completed an MSc in Women's Health at UCL, igniting her interest in the world of midwifery research. Rachel is excited to be a part of the important work that the team at Iolanthe carry out.