Funding for projects supporting the midwife-mother relationship.
Sorry, this award will not be offered in 2021
This award supports midwives to further develop practice or knowledge that focuses on the implementation of relationship based midwifery care.
Is your project eligible?
Worth up to £1,500
Awarded annually to one applicant who must be a midwife registered with the UK NMC
Projects/research:

focusing on case loading, small teams and continuity of midwifery care. Specifically, care that is designed to improve and build the mother and midwife relationship.
involving women as an integral part of service delivery and development.
specifically targeting vulnerable women and marginalized women such as travellers and asylum seekers, working from a woman/family centred ethos for service provision.
supporting maternal and infant mental health through relationship based care.
focusing on community and integrated care, grass roots provision of compassionate maternity care by a midwife known to the woman
offering an innovative or new model/ framework that also demonstrates personalized care.
offering integrated, 'joined up' midwifery care to women with complex medical needs, as women under the medical/obstetric team have, in the past, experienced lower levels of continuity of midwifery care.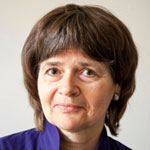 This award is named after Elizabeth Duff who has been a long standing supporter of the Iolanthe Midwifery Trust. Elizabeth joined initially as a Trustee in 1999, before becoming Executive Director of the Trust in 2007. Elizabeth's drive and commitment to the Iolanthe ensured that it flourished under her stewardship, and it is in recognition of this that Trustees decided to establish a new Iolanthe Award. It was first awarded in 2017.
---
Applications are made online. Please read the Application Guidance (link above) and our Privacy Policy carefully before applying.
Previous Winners
2020
Nikola Duncan, a midwife from Whittington Health NHS Trust, London who will use her award to create an aromatherapy, massage and hypnotherapy service for women.
2019
Ren Forteath, a midwife from NHS Dumfries and Galloway will use her award to stage a musical "Labours of Love" on the maternity experiences of service users and their partners.
2018
Jilly Ireland, based at Poole Hospital NHS Foundation Trust, for her work supporting healthy relationships between midwives and women and their families using self-efficacy techniques and training for debriefing and motivational interviewing
2017
Rachel Buisson-Lex, an independent midwife from Dorset, who is undertaking a pilot study to research the viability of arrangements for independent midwives and NHS trusts to work together to care for women.