The Ann Stewart Award is given at the discretion of the trustees to the applicant who, in the view of the Trustees, reflects the greatest commitment to midwifery practice.
The Ann Stewart Award is given each year to the award winner - or occasionally to a non-winning applicant - in another category who, in the view of the Trustees, reflects the greatest commitment to, or development in, midwifery practice. It is therefore not possible to apply directly for the Ann Stewart Award.
The Ann Stewart Award  is a personal award of £500 made in memory of Ann Stewart and her lasting contribution to midwifery practice and education, most especially in her roles as Principal Midwifery Tutor, Kings College Hospital (1967 - 1974), Education Officer, the Central Midwives Board (1974 - 1983), and Professional Officer Midwifery, The English National Board (1983 - 1991).
About Ann Stewart
The following biography of Ann is based on an Appreciation given at Ann's funeral by Ruth Ashton, then General Secretary, Royal College of Midwives.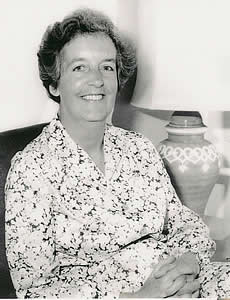 Ann undertook her nurse training at Kings College Hospital in London, a fact she was always proud of. In 1953 she went to Brighton for her midwifery training. She then practised midwifery in Brighton, King's Lynn and on the Isle of Wight. Ann did her MTD at High Coombe [then the Midwife Teachers Training College] in 1960 and subsequently taught at the Elsie Inglis Maternity Hospital in Edinburgh and at Mile End before becoming Principal Midwife teacher at Kings College Hospital.
In 1974 Ann went to the Central Midwives Board as an Education Officer - and in 1983 Ann moved to her final career port of call - the English National Board, as its most senior midwifery officer.
She was a very active member of the Royal College of Midwives and was on its Council for over 20 years. During that time she held office as Vice Chairman of Council on several occasions and was Chairman of the Executive Committee.
In addition she was a member of the Council of the Midwife Teacher's Training College for many years and was also on the Board of Nursing Notes which published the Midwives Chronicle, later Midwives, the College's official journal.
There is so much to be said about the quality of the work which Ann did and the value of that to midwifery. She knew how to teach well and was a very skilled clinician. There was nothing she did not know and remember about the Rules and Code of Practice, and Standards of Care, and Supervision of Midwifery.
She influenced the quality of midwifery education and practice through her contact with midwifery units and schools, and she raised the profile of supervision of midwifery through her involvement in the education of Supervisors of Midwives and her contact with the Local Supervising Authorities.
In addition there is much to be said about Ann's professional qualities and the value of those to midwifery and other professions. The words I would use have been repeated time and again in the many letters and cards received after her death and which I have had the privilege of seeing - words like integrity, professionalism, determination, wisdom, dedication, commitment, highest standards, wise counsel - and many more.
For Ann personal quality was the major reason why her impact on midwifery and beyond has been so great. Again the same words and phrases appear in the letters from her friends and colleagues:
Personal interest in people - 'she knows everybody', 'she never forgot a name'
'Steadfast friend to the profession'
Tremendous support - 'so supportive and encouraging to colleagues - she never saw anything wrong in you'. and 'Always encouraging and helpful'
Acted with diplomacy in difficult situations ('particularly with obstetricians' someone said)
Able to obtain a high profile for midwives
'Her gentle and caring and supportive approach helped colleagues to make contributions which would otherwise have been lost to the organisation'
Yet Ann was no soft option. She could be determined or stubborn - but she never held a grudge. The quality of Ann's personal friendships mirrors the quality of her professional relationships, and, of course, for many, their personal and professional relationship with her was one and the same thing - they say "She was a real friend".
Previous winners
2018
Emily Brace, Cardiff & Vale University Health Board, who used her funds to launch Wales's First Specialist Midwifery Led FGM Pilot Clinic
2017
Debbie Garrod, funding fees, equipment and travel for PhD research: How do midwives and fathers communicate during labour and birth? An ethnographic study in NW England.
2016
Rosalind Weston, based at the University of Worcester
2015
Jane Pollock, midwife at the George Eliot NHS Trust, Nuneaton
2014
Paulina Storek, student midwife at the Univeristy of Salford
2013
Grace Stanford, midwife from City University
2012
Gemma Taylor, midwife at Countess of Chester Hospital
2011
Laura Mundy, midwife at the University Hospital of Wales in Cardiff
2010
Jude Davis, midwife at Bronglais Hospital, Aberystwyth
2009
Katy MacIntosh, student midwife at University of Northampton
2008
Joanna Mead, midwife at the Rosie Maternity Hospital
2007
Anne Green, student midwife at Liverpool John Moores University