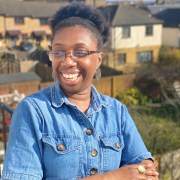 Lola is a practising midwife with nearly twenty years experience.
She has worked in all areas of midwifery and is passionate about normalising birth and advocacy for women/birthing people. She believes in educating women/birthing people about their bodies so that they can make true informed decisions about their care.
She has worked in hospitals all over London and has been part of the antenatal education team in most of her jobs. She is currently working at the Birth Centres of two London hospitals where she helps to facilitate a 'home from home' environment for those who wish to give birth in hospital in a non-medicalised setting. She is passionate about preserving the ethos of true midwifery and enjoys mentoring students and midwives. She is using her voice to raise awareness about the inequalities in maternity health for black and brown women/birthing people.
She is currently working with two universities where she assists with curriculum development as well as guest lecturing and running sessions highlighting the effects of medical racism on black and brown women/birthing people. She has featured on the Midwifery Hour, student conferences, Black Breastfeeding Week, Black Maternal Health Week, Black Women in Science and Pregnancy Without Fear podcasts.
Lola is a natural fertility enthusiast and has recently completed her teacher's training in the Billings Ovulation Method. She is currently awaiting accreditation. Lola is excited to start her new role as Midwife Trustee for the Iolanthe Midwifery Trust and is looking forward to being part of the team and supporting their core values of funding and supporting midwifery practice to improve services for women/birthing people and their families.